In February, Chido Govera's The Future of Hope Foundation (TFoHF), organized and hosted a training program to build mushroom spawn production capacity in Zimbabwe. For the uninitiated, mushroom spawn is the genetic material used to grow mushrooms—and growing mushrooms is the key to THoHF's practical approach to empowering communities to raise themselves out of poverty.
"We are providing vulnerable people access to growth and progress. We are showing them it is possible," says Govera.
The program brought thirteen participants from February 20 to 28 to The Future of Hope Centre in Mazowe, Zimbabwe.  Participants included beginners as well as people with significant knowledge in spawn production and came from Zimbabwe, Mozambique and Kenya.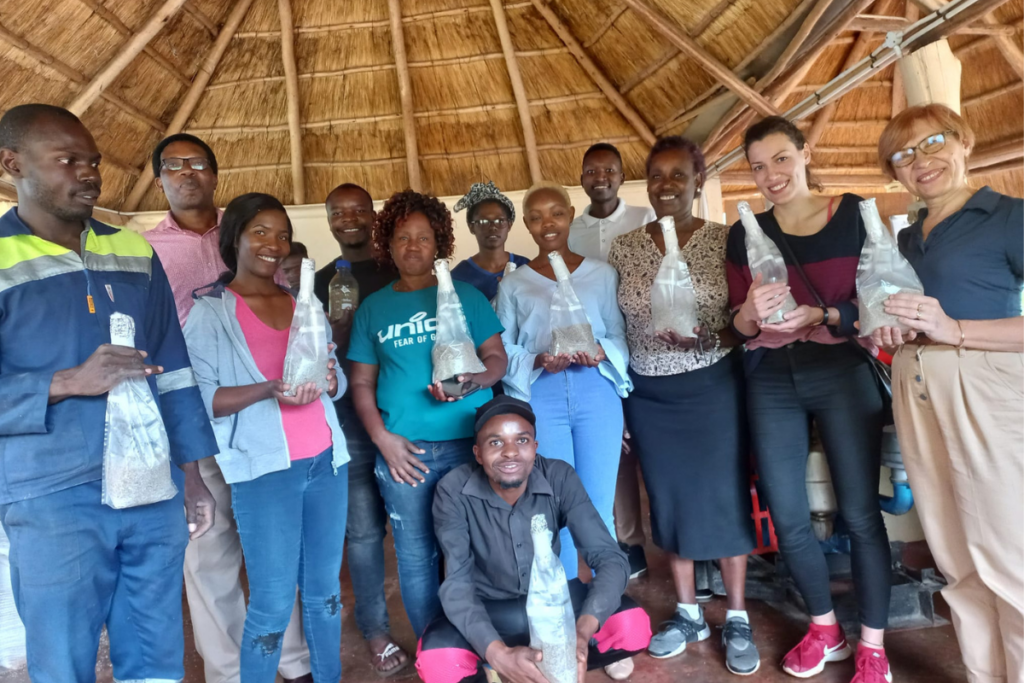 Serbian mushroom farming experts from Ekofungi helped lead the training which aimed to equip participants with theoretical and practical skills in the production of mushroom spawn.  Topics ranged from the general—trends in mushroom production growing and waste-to-taste production models—to the specific—preparation of substrates and grain media for spawn production and the proper way of disposing of contaminated materials.
To facilitate the participants' work, TFoHF and Ekofungi built a miniature laboratory in a shipping container. The 20-foot used container was transformed into a new clean lab space—a suitable environment for the cultivation project.
Creating capacity to produce mushroom spawn in safe, economic and sustainable ways is an integral element of Govera's strategy.  HopeFood, a startup she founded that is being incubated by TFoHF, will produce and sell mushroom spawn, ready-to-grow kits and dried mushroom products to TFoHF's Mushroom Farmers shop, Nestle and other retailers.
The training program was funded with Chido's Tällberg-SNF-Eliasson Global Leadership Prize honorarium