Sara Hossain
Making the law work for all, not the few
Sara Hossain is a barrister practicing at the Supreme Court of Bangladesh in the areas of constitutional, public interest and family law. She's Deputy Head of Chambers at Dr. Kamal Hossain and Associates and currently serves pro bono as Executive Director of the Bangladesh Legal Aid and Services Trust (BLAST). Sara is a member of the United Nations Voluntary Fund for Victims of Torture, the Advisory Board of the Open Society Justice Initiative, and the Bureau of South Asians for Human Rights. She writes and speaks on public interest law, access to justice, women's rights and freedom of expression. She was educated at Wadham College, Oxford and called to the Bar from Middle Temple. She has won awards for her work from the Lawyers' Committee for Human Rights, the Ananya Foundation, and the US Department of State, and has been selected as a fellow by the Asia Society and the World Economic Forum.
(Photo © Shahidul Alam)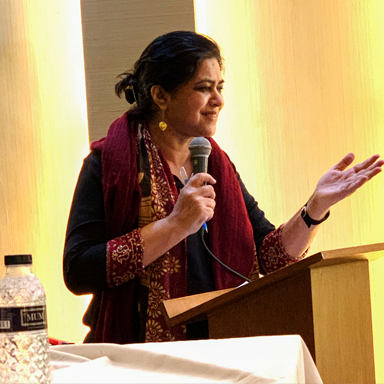 Objections Sustained: Sara Hossain
Sara Hossain can sound ambivalent about her role as honorary executive director of BLAST, the Bangladesh Legal Aid and Services Trust. "I don't like running a large organization and I really don't want to keep on doing that," she says, "because there are many aspects of it that a lawyer is not best skilled for doing." But almost in the next breath, she is describing one of those moments that make it all worthwhile.
On a day when she was thinking, "Oh, my God, how much more fundraising, how much more HR does one have to deal with?" a colleague knocked on her door, accompanied by an elderly couple. BLAST had won a compensation case for them after the work-related death of their son. The bereaved parents told Hossain their boy had left two young daughters behind, and they were going to invest the compensation for their granddaughters' education.
"It made me think back to when I started practice," she recalls. "We didn't really have organized processes like this then. To me, the idea that you can have an organized institutional opportunity for somebody in that situation and with no means to come, get legal assistance, and get relief, and move on, and build those two girls' lives, despite this horror that had happened to them—it's really hard to replicate that, however many exciting policy papers one writes."
BLAST was set up as Bangladesh was emerging from military dictatorship in the early 90s, by leaders of the legal profession, and Hossain, who is a finalist for this year's Tallberg Eliasson Global Leadership Prize, assumed her role there about ten years ago. While she takes some high-profile cases herself—and is a partner at an established firm—the NGO has 2,500 pro-bono lawyers on its books, as well as various grassroots education and training programs, so a lot of her time is spent keeping all the balls in the air.
But Hossain has led in ways that go beyond legal victories and admin. She connected the dots between healthcare, freedom of speech, and right to information, and combined strategic litigation with consensus-building. Taking aim against the "grotesque" practice of a "two-finger test" for rape victims (when a doctor puts two fingers into a woman's vagina, and finds it's "lax", and she is 'habituated to sexual intercourse" this may be seen as evidence that she probably wasn't raped), she made her case through extensive dialogue with health ministry staff and forensic doctors, as well as in court.
Similar tactics helped her through BLAST to combat "fatwa" violence against women, to change practices around emergency treatment after road accidents, and to help workers protect themselves against COVID-19. "Through taking up certain challenges or through asking some of the questions that perhaps aren't being asked, you make a certain space in society which isn't already there," she explains. "Doing legal aid in this way with community education programs, combined with dispute resolution, mediation, and so on, where it's possible, and then combined with the option of strategic litigation and public education on rights and justice. I think that's quite a replicable model."
She is also looking at cyberspace as a newly important area—how to keep it free but also safe. "Human rights abuses involving physical human rights … will remain extremely important, whether it's domestic violence or police abuse or whatever. We know that. But this is going to be the critical, intersecting kind of frontier, and we're not doing enough on it right now."
BLAST & Dr. Kamal Hossain and Associates website