More than two decades ago, in Uganda's Bwindi Impenetrable National Park, Gladys Kalema-Zikusoka made a connection that most of the world is only now beginning to get: The well-being of humans and animals are inextricably linked. About half of the world's endangered mountain gorillas live in the park—around 650 at the time, a population that has almost doubled since—and Kalema-Zikusoka, while working as the first  veterinary officer  with the Uganda Wildlife Authority, was treating a skin disease, scabies, that was killing their babies.
"Conservation has traditionally been about focusing on the wildlife species and their habitats," she says, "and it hasn't really involved people that much. It was all about fences and fines."  But that scabies outbreak, which had jumped from locals to the gorillas, made it clear that "we couldn't protect the wildlife without also thinking about the health of the people around the park," she recalls. "We had to work very closely with the Ministry of Health and the sustainable development community, the economic development community."
When she founded Conservation Through Public Health with her husband, Lawrence Zikusoka, a telecom specialist, and Stephen Rubanga, a veterinary technician, in 2003, a lot of people thought they were crazy. "Why are you integrating conservation and public health?" they asked. That kind of question has stopped. "We know that [Covid-19] came from bats, but we're not sure yet which the intermediate host is," she points out. "It can also jump back to animals, and especially those that are closely related, like gorillas, chimpanzees, where we share over 98% genetic material and can easily make each other sick."
Another piece in Kalema-Zikusoka's holistic puzzle was Gorilla Conservation Coffee, which she founded in 2015, a social enterprise that provides above-market prices for responsibly sourced, high-quality coffee from farmers bordering gorilla habitats, reducing their dependence on forests for fuel and food.  As with health care, it was a way to win over the community to support conservation. "[It] made them feel you're not only worrying about the wildlife and the forest and the trees, but you also care about their welfare," she explains.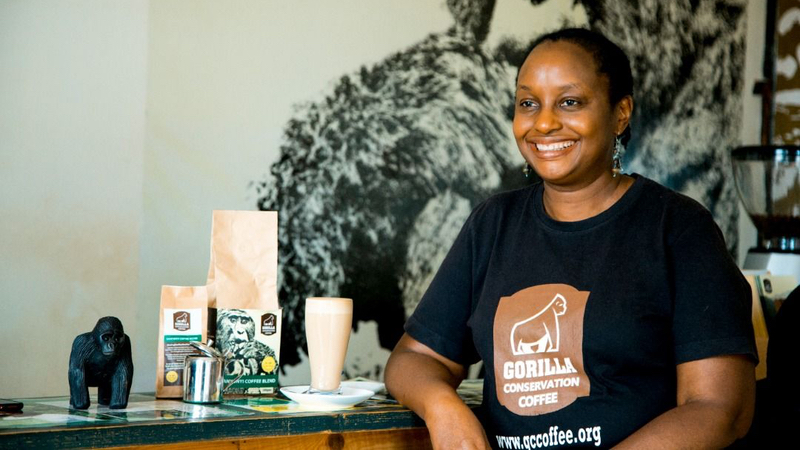 Conservation Through Public Health has been hosting research projects for over a decade, with a current emphasis on COVID-19. Its ideas are catching on elsewhere, she is happy to report: "We managed to get the [five countries in the] East African community to develop an integrated strategy … where you combine family planning, human health and environmental issues…. We influenced other NGOs to work on those issues." She hopes to adapt that integrated approach to other habitats: savannahs, mountains, and even the developed world.  Another focus is responsible tourism, including a policy brief for the 25 African countries that have great apes, so that tourists don't make the animals sick.
As a woman leader of color, Kalema-Zikusoka is a rarity in her field. While the work of Conservation Through Public Health is now being recognized, and she is a finalist for this year's Tällberg Eliasson Global Leadership Prize, she was especially pleased to be approached for a quote by the Malala Fund, to inspire the girls who are graduating. "Whatever they want to accomplish in life," she says, "they can learn by listening to my story."